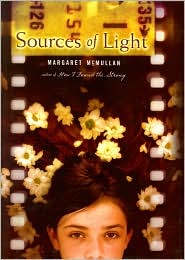 Sources of Light
by
Margaret McMullan
takes place in Mississippi during the early 1960s. Sam and her mother move to Jackson to be near Sam's paternal grandparents after her father is killed in the Vietnam War. Sam's mother is an art history professor at a college, while Sam attends 9th grade at a Jackson high school. Things begin to heat up in Jackson as the fight for black rights begins to unfold. Sam finds herself right in the middle of the fight when her mother speaks at a college for all black students. Suddenly, they are being watched and harassed by the Citizen's Council, which was described as the KKK without the sheets. Sam's mother's new "friend", Perry is a photographer who is committed to capturing Mississippi life on film. He teaches the art to Sam, even giving her one of his cameras. As things turn more and more violent, Sam finds herself even more in the mix when she finds out that the boy she's been seeing is somehow involved with the Citizen's Council and may have even played a part in an unspeakable crime. Through the lens of the camera, Sam begins to see things differently. She learns a lot about right and wrong, love and hate, black and white.
This was an incredible book! I especially appreciated the author's note at the end, describing her own feelings about growing up in Mississippi. I've read other books set during this time period (
The Watson's Go to Birmingham, 1963
by Christopher Paul Curtis,
Fire From the Rock
by Sharon Draper, and
Mississippi Trial, 1955
by Chris Crowe) but this book takes on the perspective of a white teenage girl - completely different from the other books. I really liked the way the novel unfolded and the way Sam changed and grew throughout the story.